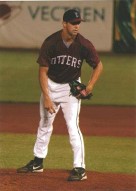 Angel Concepcion Sr.
Started in Fall of 2012
Favorite Inspirational Quote: "Girls have to feel good in order to do well and boys have to do well in order to feel good" -Mike Candrea
"When I'm not coaching I like to…." work as a Spanish Teacher at Mountain Lakes High School and love to work out.
Taking charge of their first 10U Gamers team in 2012. He brings over 30 years' coaching experience in both baseball and softball. His coaching experience covers a wide range.  Since age 15, he has coached all levels of baseball:  youth organizations, and high school.  He has worked as hitting, catching, and infielders` coach. Being born and growing up in Puerto Rico, Coach Angel has been lucky enough to be able to have shared the diamond with many former MLB players such as Juan Gonzalez, Bernie Williams, Jose Hernandez, Bengie Molina, amongst others.
In his hometown of Vega Alta, he played for the 1989 National Championship team in the AA Youth League along with his brother Yiris. His father Angel was the owner of the team. He received different opportunities to play college baseball in Arizona Western Community College, and Eastern College (formerly Eastern Baptist College) in Pennsylvania. He played Semi-Professional baseball in Puerto Rico for eight years before moving to the US. He earned an invitation to practice for the Puerto Rico National Team in 1991.