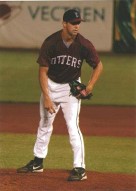 Andy Paulus
Started in Fall of 2018
Favorite Inspirational Quote: 'Be more concerned with your character than your reputation, your character is what you actually are, your reputation is merely what others think you are'.  John Wooden
"When I'm not coaching I like to…."train in Olympic weightlifting and play Metal songs on drums.  
Andy played collegiately at FDU-Florham 1993-1996, was two-time All-Conference Outfielder, Conference Player of the Year and 1st team All Mid-Atlantic region In 1996.    Elected to the FDU-Florham Athletic Hall of Fame in 2002.  Played professionally for the New Jersey Jackals In 1998.
Acted as Assistant Coach at FDU-Florham 1998-2005, and Head Baseball Coach 2006-2018.   Qualified for Freedom Conference playoffs in 8 out of 13 seasons, making the Conference Finals in 2010 and 2011.    Set a school record for victories with 33 in 2010 and was named Division II/III New Jersey Collegiate Coach of the Year the same year.     
Has competed in the sport in Olympic Weightlifting since 2014, won Gold Medal at the 2015 American Masters Championship in the 40-44 year old, 85 KG class, competed in the World Masters Weightlifting Championship in 2016 and finished 6th in the same age group and weight class, won the National Championship in 2020 in the 45-49 year old, 89 KG class.   Is the current US record holder in the Snatch for the 45-49 year old, 89 KG group with a 106 KG/233 lb lift.