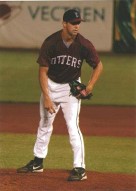 Jon Lewis
Jon Lewis was drafted by the Florida Marlins in the 16th Round of the 2005 Major League Baseball Draft. He had a five year professional career in the Minor Leagues, the Northern League and Frontier League. In 2008, Jon was named to the Frontier League's All-Star Game.
Before pro baseball, Jon was a full scholarship athlete at Division I Stony Brook University. At Stony Brook, Jonathan was the 2002 America East Conference Rookie of the Year and a Louisville Slugger Freshman All-American. He went on to hold the Stony Brook's all-time records in innings pitched and strikeouts. During his college career, Jon was fortunate enough to be invited to play in the prestigious Cape Cod Summer Baseball League. In 2003, he played for the Hyannis Mets and in 2004 he played for the Bourne Braves.
Prior to Stony Brook, Jon attended Francis Lewis High School in Queens. In his senior year, he was inducted into the Francis Lewis High School Hall of Fame. He was also named the 2001 NYC Iron Horse Winner (top baseball player for all of NYC public schools). He also was named New York Newsday's Queens Baseball Player of the Year along withe making All-City teams for New York Newsday and the New York Daily News. At Francis Lewis HS, Jonathan was named junior and senior year Athlete of the Year. He was also honored by being selected to play for Team New York City in the Empire State Games (New York State Olympics).